Val & Ernie's story
Friday 27th July 2018
We recently delivered our specialist chairs to the lovely Bradeney House Nursing Home, just outside Bridgnorth, where the dedicated nursing staff and residents are enjoying the benefits of our chairs durability.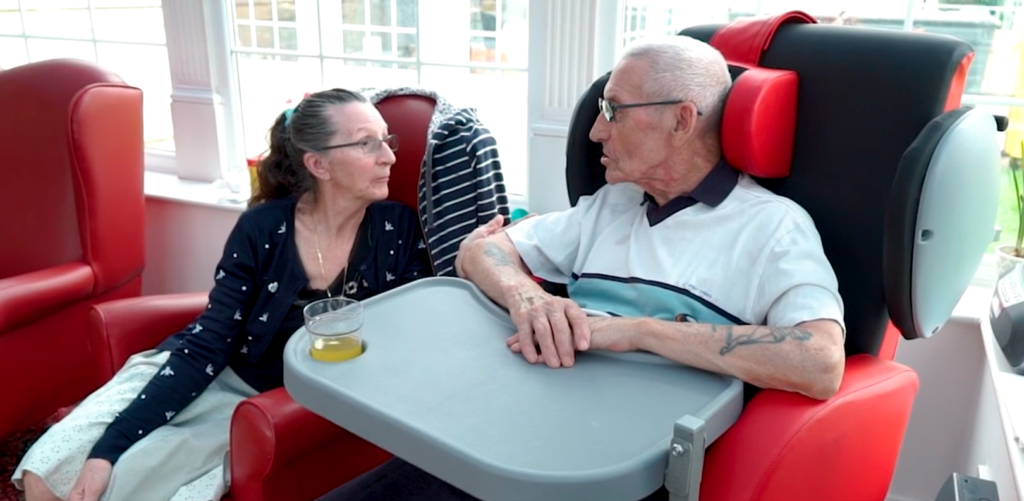 The home has 101 bedrooms, purely dedicated to those with dementia, so efficiency for the nursing staff can be an extremely difficult task. However, the elderly residents, alongside the staff, are delighted that things have been faster and more comfortable than ever before, now that our Your Mobility chairs have been installed.
With the portability and adjustability of our chairs, users aren't required to be moved from chair to chair around the care home – a concerning problem in previous years. As well as this, chairs weigh just under 35kg, making them easily manoeuvrable and adaptable to various environments. This allows for users to stay socially aware and active whilst seated.
Despite everyone being overjoyed with our chairs, there was one couple in particular who were extremely thankful for how much our chairs had changed both of their lives.
We met with Ernie, a resident, who moved to Bradney House just over a year ago and who is now using a Your Mobility chair. Accompanied by his devoting wife Val, who was unhappy with Ernie being hoisted around, the couple now have use of Your Mobility chair, making both lives a lot easier.
Val only had kind words to say when speaking to our team and insisted that Enie "loves his chair" and how it had given him "more freedom and independence". As well as this, judging by Ernie's cheeky grin on his face, the couple couldn't have been happier with the benefits the chair was having on both their quality of lives.
Unlike before, Val can now easily move around with Ernie all by herself, as well as interact with him whilst he is seated – which is great to see!
The team here at Your Mobility love seeing our specialist chairs in use, as well as seeing them helping and improving users lives.
If you have any questions or queries about whether a mobility chair is right for you, you can reach us on our helpline by calling 0800 0467448 – we will be happy to help.
Val & Ernie Curnock – Case Study from Your Mobility on Vimeo.